Reverend Susan L. Scranton
Rector
The priest in charge of our family at Grace Church is the Reverend Susan Scranton. Susan came to Grace Episcopal Church after a three-year search in 1997 and has truly been a part of our family ever since.
The Rev. Susan Scranton was ordained as a deacon in June of 1994 and ordained as a priest in January of 1995. She was installed as rector of Grace Episcopal Church in Glendora on December 7, 1997. Previously she worked as assistant rector of St. Peter's Episcopal Church in San Pedro, where she was closely involved with the teens and children and also headed up many successful stewardship campaigns. Rev. Susan is an accomplished musician, holding a Masters in Music as well as a Masters in Divinity. Rev. Susan came to Grace with a long list of accomplishments and talents, and her enthusiasm and hard work are assets to Grace Church.
Tending to the congregation on a daily basis, Rev. Susan has not only become our spiritual leader, but has become a member of our individual families as she attends birthdays, graduations, and many other family gatherings. She is truly a warm, understanding personality that cares for people and the values of family life together. She has helped raise many of our children as members of our Youth Group and helped them walk into adult life, presiding over several weddings of children she has watched grow.
Susan was raised in Long Beach, California and now lives in Sierra Madre.  She is involved in most community events and has become a highly recognized spiritual leader of our City. She not only tends to our parishioners, but is the business leader of the Church as well, representing Grace with the Glendora Minstrel Association, surrounding Episcopal Churches and the Los Angeles County Diocese.
She truly understands God's message and holds all of us closely. We are very blessed and lucky to have her presence at Grace Church.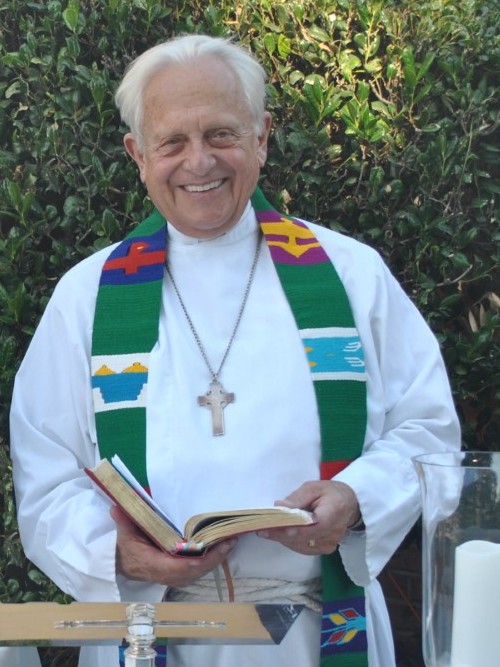 Reverend James Seipel
Assisting Priest
In the Fall of 2015, Grace Episcopal Church formally welcomed The Reverend James Seipel and his wife Elizabeth to our parish. While not a stranger to Grace Church, we met Father Jim when he served as supply clergy for the 6 weeks prior to the arrival of Reverend Susan back in 1997. Ever since, we have enjoyed his presence on a regular basis when Reverend Susan was on vacation or absent. So it is fair to say that we have known and enjoyed his pastoral service and friendship for well over 25 years now.
Father Jim has a very special talent of taking complicated readings and studies and applying them to daily life.  This helps all of us to better apply the teachings of the bible to our personal challenges and interpersonal relationships.  He is noted for strong teachings and indepth, interesting sermons that actually challenge you to think about your roll in society.
Father Jim is a very special member of the Grace Family.  As a priest in the Los Angeles Diocese for over 50 years, Jim brings a mountain of life experience and understanding to Grace.  Although not with us on every Sunday, since his new roll with Grace Church, we generally enjoy his company several times a month.  We are so blesses to have him and his lovely wife Liz as part of the Grace Team.  We are happy to have the Seipel family as part of the Grace Family.
Grace Staff
Jade Lakin Petteruto – Youth Director
Nancy Rice – Administrative Assistant
Miles Bresee, Treasurer
Organist
David Aldrete – Choirmaster
Marilyn Scranton – Handbell Director
Rick Sandona – Webmaster and IT Services